MAGIC Live! was a collaborative effort between PJ Live Arts and The Magic Annexe, showcasing various forms of magic performances by both, up and coming amateur and professional magicians. Season 1 being over, we sat down with The Magic Annexe founder Anslem Roy to find out his thoughts on the entire run.
TMA : How did the Magic Live project come about?
Anslem : I have to answer this by going historically back to a few years ago were during one of our brainstorming meetings, on trying to forge a more productive and proactive direction for the club, one of our members brought up an idea that The Magic Annexe should work to a collective target and perform as a group in a show. Up to then, the members had only performed at club meetings, to try hone their craft, and those that performed outside this environment, usually worked individually - but never collectively as "The Magic Annexe".
In this spirit, in 2010, we put together a new platform for our members by staging close-up, parlour type and stage performances at The Magic Annexe clubhouse, and thus was born "The Magic Annexe : Unplugged!" series of shows. This project gave our members the added opportunity to work together as a team, supporting each other not just in putting together the show routines but also the various production disciplines involved in staging a show.
Now, in answering the question…..
Early last year, Ms Chae Lian of PJ Live Arts, approached me with a proposal to showcase magic on a regular basis at their Cabaret Room at Jaya 1 shopping mall. I thought it was a great idea and perfect for the furthering of our artform in the Klang Valley, at least. (It would put magicians "in the hot seat" and "put their money where their mouth is" so to speak, and give them an avenue to perform to a paying audience. OK the stress was on!!!)
I wanted this to be a platform for all magicians, not just for those who were members of The Magic Annexe. As long as one met a qualitative 'bench mark' based on the performance tenets set by PJLA & The Magic Annexe, one could qualify to perform at Magic LIVE!
Any magicians who is interested to present his/her magical craft to the public in a professional manner, would now have a proper venue in which they can showcase their hardwork to the public. Yes, it was a testing ground for the amateurs amongst us, but hey, why not set the bar to which they could aspire to.
After a series of meetings, Magic LIVE! was born. A 60-min show, every last Wednesday of each month at 8.00 pm, running for a season of 6 months at The Cabaret Room at PJLA at Jaya 1, Petaling Jaya, playing to a room of max 80 seats. Tickets were very reasonably priced at RM35 when purchased on-line and RM40 at the door.
The calendar quickly filled up and the real work began…..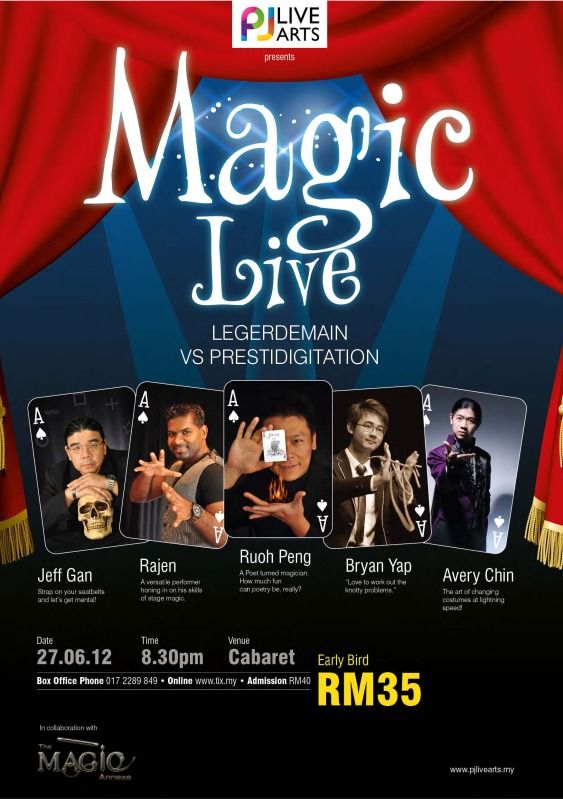 The MAGIC Live show that kicked off the series...Legerdemain Vs Prestidigitation with Avery Chin headlining the show
Canes, wands, parasols, razor blades - The versatile Kenoph Lai - League of Not-So-Ordinary Gentlemen
TMA : What were your objectives going into this project?
Anslem : Aside from the objectives in putting the magicians under a "creative pressure-cooker" in meeting performance deadlines and having to play to a paying audience ( It's a very different kind of pressure when the audience is paying to see you!, the other objectives that I had in mind were these: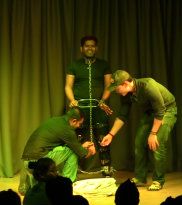 Rajen, chained, shackled and stuffed into a sack - The Legacy of Houdini

TMA : In your opinion, do you think you achieved the objectives?
Anslem : I believe we definitely did. As in all show productions, the run had its fair share of highs and lows, but I think for most of the part, we managed achieved our goals.
Looking at this from a magic standpoint :
1) There were hard and painful lessons learnt, and hopefully the performers will learn from their mistakes, and if and when we come back with Season 2, we will bounce back harder.

2) We witnessed the creation of 2 fantastic performing characters - Peng The Political Consultant, and The Great Yongdini.

Although it is still a work in progress, watching Yong Fa, who is normally a very quiet, introverted and softspoken person, slowly transform into the Yongdini was probably one of the highlights of the entire process. Yes it was tough going but what a joy to see all that work pay off!
The Great Yongdini - a comedy silent act- It's not "Just Magic"

Peng, the conjuror cum Political CONsultant up to his usual shnenigans - Prestidigitation Vs Legerdemain

3) We have also had the pleasure of sharing the stage and performing experiences with performers who are not from The Magic Annexe. From all the feedback gotten, everyone had a wonderful time building friendships which each other. It was a great pleasure working with all of them and I look forward to more such entries for Season 2.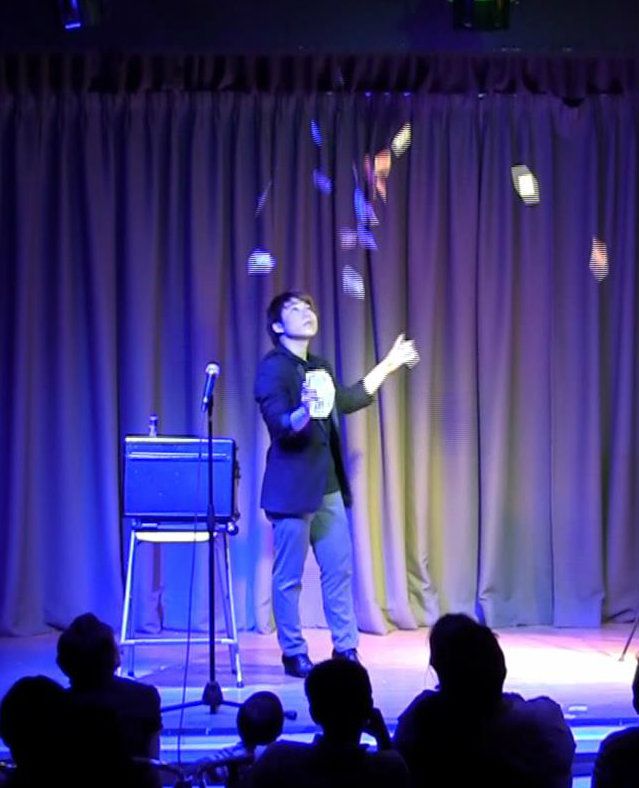 Skillful card manipulation of Rosen Roy - The Legacy of Houdini

Comedy magic by Mike Remington - The Quick, The Slow & The Funny..but Totally Magical
TMA : How did the public respond to Magic Live?
Anslem : Overall, the response was generally good.
Ticket sales wise - of course, we were all looking forward to Full house Sold-out situations but post show calculations showed that on average we filled about half the house ( the fasting month pulled the average down, as it was really quiet.)
Response wise – WOW! Totally unexpected!!! The audiences were great! On occasions, it was the audience that carried the shows to a totally new level. Very supportive and extremely encouraging! … even to the point that some of them stayed back after the shows to give pointers to some performers. Now where in the world would you get that!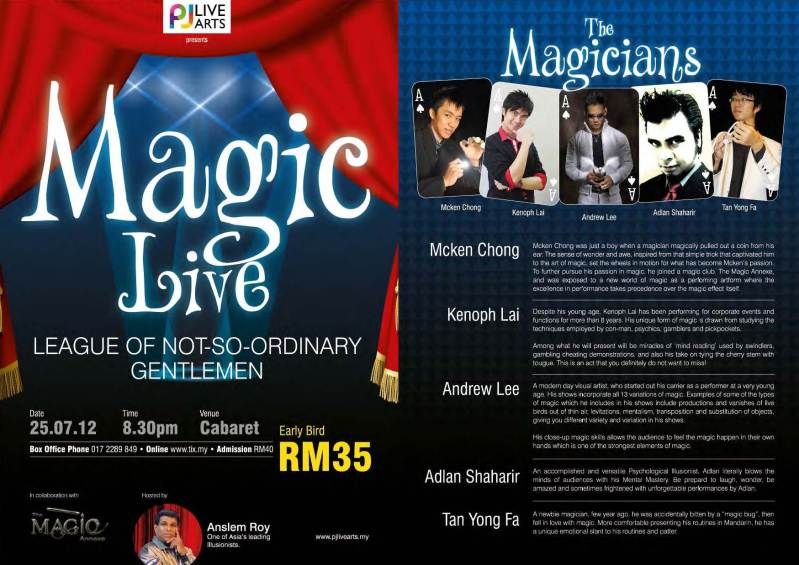 Promotional flyer for MAGIC Live! The League of Not-So-Ordinary Gentlemen featuring McKen Chong, Kenoph Lai, Andrew Lee, Adlan Shaharir & Yongdini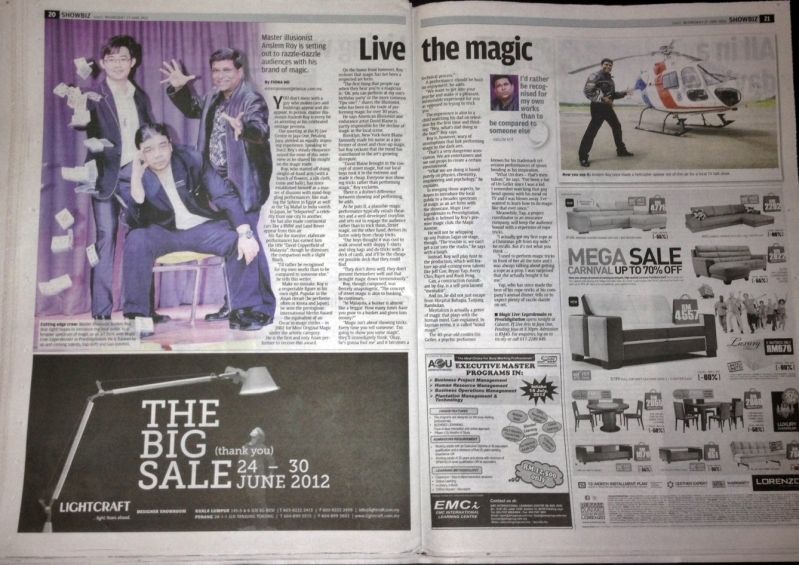 2 page spread in The Star on MAGIC Live!
TMA : Looking back, was there anything you would do differently?
Anslem : Definitely. There is never a perfect show. If anyone tells you that, they would be lying!
Even for me, with over 30 years of performing magic, that still holds true. It's a learning process for everyone and what's important is we learn and grow. You learn about the things that you need to do and more importantly the things not to do!
I think that the show duration which mostly ran over to around 90 minutes is a bit on the long side. It should be between 60 – 75 mins max. This can also be a scheduling issue. Maybe for the next season, 4 performers and the host should suffice.
Production wise – better lighting control and sound. The Magic Annexe has decided to invest in a good professional wireless head-set microphone so that the performers can be heard better – nuances and all.
Marketing the shows is still the biggest headache. So please help spread the word. If you are reading this, make sure you check out the dates for Season 2. The announcements will be made shortly. Bring your friends and make an evening of it. There are quite a number of good eateries at Jaya 1. So have dinner, see a fun show and enjoy the night!
As a sign off. Here's another invitation for everyone who likes magic no matter your skill level to join us at The Magic Annexe. It's just the commitment to the artform that we are looking for. I assure you that it'll be a great ride …. and if it's fees you are worried about … it's FREE. How's that for real magic!
What have you got to lose?